Aviva has published its most notable claims from 2018 and some of which may well win the award for the UK's weirdest insurance claims.
Last year Aviva paid out some fairly insurance claims for waxwork replicas of Justin Bieber and Ben Affleck to be repaired a thieving monkey and an overly amorous horse could win an award as being some of the weirdest insurance claims paid out in the UK.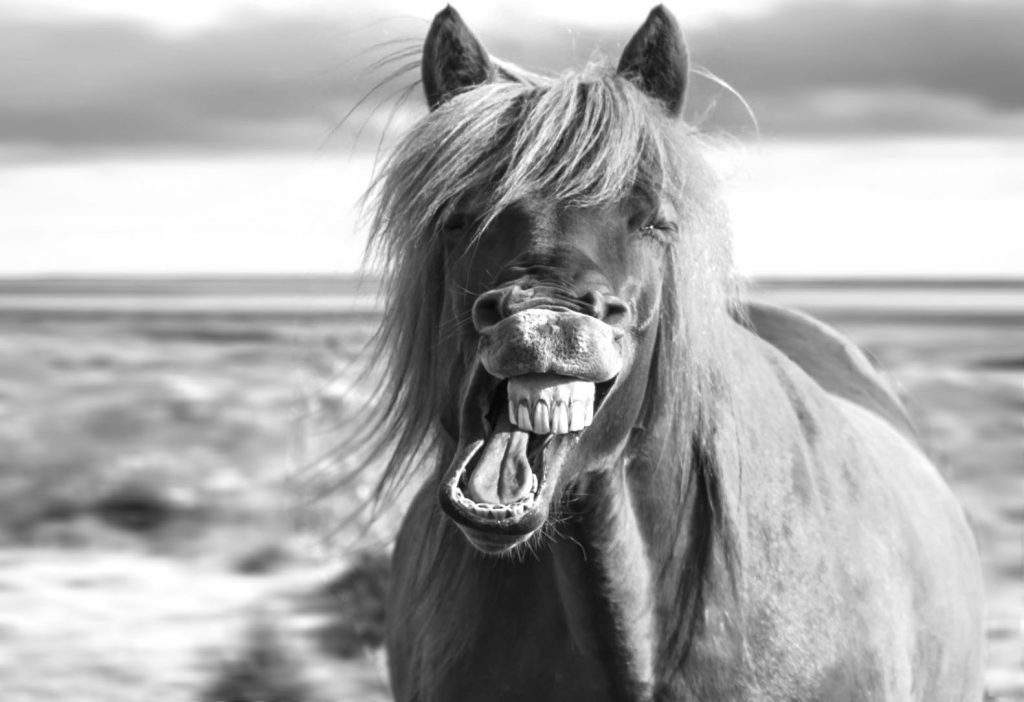 The claim regarding the frisky horse came about because a female motorist and Aviva customer won an insurance payout because a randy stallion mistook her car for another horse and humped the vehicle – damaging it in its excitement.
Aviva had to arrange for the bodywork of a car to be repaired after the amorous stallion mistook the car for a mare, got its front legs up on the vehicle and proceeded to 'hump' it, Aviva revealed
The insurer also paid out for a damage claim after a burglar had accidentally locked himself in his victim's shed, making it a tad easier for police to catch him red-handed and for the claim to be paid out.
Another contender for one of the weirdest insurance claims was one which involved a mischievous monkey that had snatched a customer's bag while they were on holiday and then proceeded to smash their mobile phone after rifling through the person's belongings.
In another primate-related case, a claimant needed medical assistance after being bitten by a gorilla during a wildlife trek.
Aviva said it accepted 96 per cent of the claims it received in 2018, amounting to 991,700 commercial and personal claims collectively worth more than £3.8 billion.
Aside from the weirdest insurance claims, Aviva said it also accepted around 3,000 weather-related motor claims in the first half of 2018, mainly due to the adverse conditions from the Beast from the East.
Road Traffic Accident Claims were lower in 2018 and there was a total of 160,597 casualties (of all severities) in reported road traffic accidents in 2018, which was 6% lower than in 2017 and the lowest level on record.
Accounting for change in traffic, the rate of fatalities per billion vehicle miles has fallen by 1% from 5.43 in 2017 to 5.38 in 2018.
So whilst the level of road traffic accident claims has fallen it seems that the aggressive pursuit by the UK's insurers to remove access to legal representation to non fault victims of accident and resultant injuries runs isnt supported by the insurers claims that such reform is needed.
Yes, whilst suspicious claims have risen is it not unfair on genuine claimants (particularly non fault parties to an accident) to be denied access to legal representation under the guise that some claims may not be genuine? Surely it would be better for the insurers to focus their efforts on curbing suspicious claims rather than penalising genuine UK claimants from getting the compensation they deserve such as injury and uninsured losses and car hire, that would be denied to them if they had to take on their insurer alone.
Other Weird insurance Claims
The cat in the car: A cat snuck into a customer's car as he was unloading groceries. Later, noticing his hazards were on, the customer went outside to see the cat in his vehicle.
The cat had tried to escape by clawing at the roof of the car, causing substantial interior damage! The customer opened the door and the cat hightailed it out. Aviva repaired the car – and the cat was not injured.
Don't blame the gorilla: A customer was on a trek to see gorillas in their natural habitat.
Their guide took them close to a group of gorillas and surprised one of them, who bit our customer on the arm and ran off. Aviva arranged for medical assistance for the customer, who said he didn't blame the gorilla!.
Aside from some of the weirdest insurance claims mentioned here having insurance brings the phrase springs to mind that, "its better to have something and not need it, than need it and not have it"
Nevertheless, if you have been injured or left at a disadvantage because of an accident, it is always worth getting some advice and not taking an insurers first offer as all insurers will try and minimise their exposure at some point. Why should it be your case that takes the hit.
Aviva has about 33 million customers across 16 countries and in the UK, Aviva is the largest general insurer and a leading life and pensions provider with some £17bn in annual revenues.